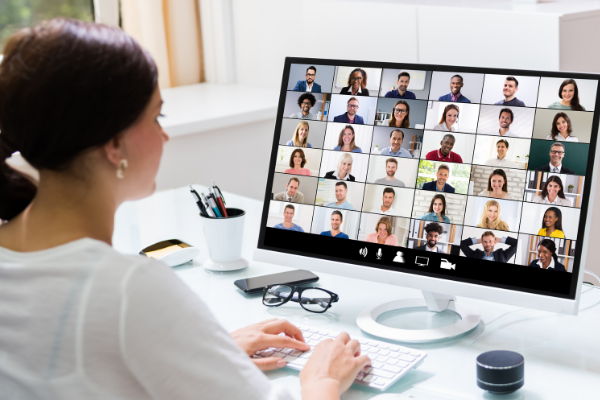 Video Conferencing Management
According to Frost & Sullivan, the number of video conferences that took place in 2020 was up by as much as 400% from the previous year as a result of the pandemic. In order to adapt to working from home, companies all over Ireland have had to adjust their working style and invest, distribute and install a wide range of technological equipment to facilitate video conferencing in all meeting rooms and employee home offices. Whilst there are multiple benefits to this new way of working, the successful completion of this task is challenging due to the numerous devices required in multiple locations. Furthermore, the IT department is then responsible for the maintenance of all devices, ensuring that they are up to date, any technical issues are solved and all devices are tracked for security purposes. To facilitate this process, Logitech offers a range of video conferencing equipment including the Logitech sync, Rally Bar and Rally Bar Mini that are easy to manage and implement efficiently.
Solving technical issues
The Logitech Sync is a cloud based web application that allows users to manage all video conferencing equipment from any location. This multi-functional device is quickly becoming a new essential for businesses and performs the following functions:
– Provides data and analytics to help optimise usage in each video conferencing room
– Complete any bug fixes or product updates from a remote location
– Recognise any technical issues
To help solve any technical issues as soon as they arise, Sync is integrated with ServiceNow, enabling it to quickly identify any problems and send alerts to the necessary people, directing them to the correct technician. For technical issues that do not require a specialised technician, such as errors in software updates and device disconnection, Sync will administer a trouble ticket informing those involved of the issue in the hope they are able to find a solution prior to the next video conference.
Simplifying distribution
The main difficulty surrounding video conferencing distribution is the multiple devices (e.g. webcam, speakers, microphone etc) required in meeting rooms and employees home offices. Not only is this expensive to post, it can be difficult to correctly assemble and does not guarantee all parts arrive in due time. Multiple parts also create room for technical errors. Logitech's all in one video conferencing devices Rally Bar and Rally Bar Mini, provide the perfect solution. The video bars combine all necessary components (e.g. a camera, microphone, compute engine and speakers) into one device so it is easier to transport and set up.
As well as easy deployment, Logitech Rally Bar and Rally Bar Mini also offer a range of other advantages which help with video conferencing. These include:
– Equipped for video-first cloud services
– Easy to use
– Equipped with insights and analytics
– Eradicate the need to maintain software on another computer
– Easy to update
As a result of the multiple advantages Rally Bar and Rally Bar Mini provide, a significant number of employers are choosing to invest in video bar technology to aid with all their video conferencing needs.
Using data and analytics to optimise performance
All Logitech devices are enhanced with the latest data and analytics tools which assess factors such as room usage and room overcrowding, clearly presenting results and helping employers make informed decisions. From these findings, it may become apparent that larger conference rooms are hardly used and the company would benefit more from increasing the amount of smaller conference rooms instead.
With a significant increase in video conferencing since the beginning of the pandemic and a large number of employees still working from home in some capacity, it is now more important than ever to successfully manage your video conferencing equipment, ensuring it works efficiently and is easy to use.
So what are you waiting for? Purchase Logitech technology today!
Posted by

Phil

January 18, 2022
0 Comment(s)